Research Service
Family history research
- research of descendants or ancestors, for any family, and/or depiction of the relationships as PDF charts
---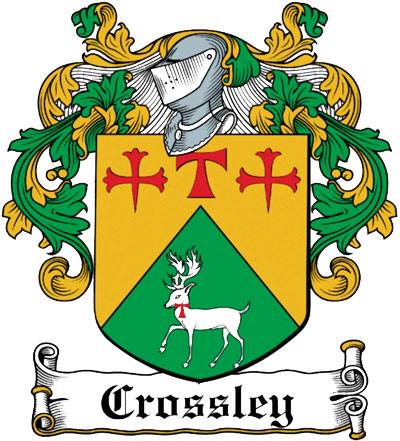 The Crossley Families of Todmorden and Walsden
This site details the Crossley families of Todmorden/Walsden, an area on the Yorkshire-Lancashire border, a few miles north of Rochdale, including parts of the Langfield, Stansfield, Erringden and Heptonstall townships. The
Todmorden and Walsden map
shows the area, plus the location of all major farms and settlements. It is likely that most if not all of the Crossleys in this area are descended from the ancient landed family resident at Scaitcliffe, but proving such links is not easy.
The people listed are those definitely or possibly related to the Scaitcliffe Crossleys, established there since the 1300s; these include several branches that remained in the Todmorden area, plus two that emigrated to Ireland, one of which is now represented by the Crossley Baronets of Dunham Massey.
For more information send an e-mail to me (John Crossley) at
All Crossleys can usually be linked to one of the families listed below, or to other families researched but not yet uploaded; if you have someone to trace just send me the detais of a relative in the 1911 census (UK) or 1940 census (US).
---
PDF files detailing relationships for other Crossley families
Barnsley
- descendants of John Crossley, died Darton 1755; locations include Worsborough, Darfield, Darton and Camden
Burnley
- descendants of Edward Crossley, died Deane, Burnley 1637; locations include Habergham Eaves and Burnley
Bury
- descendants of Edward Crossley, died Moorside 1733; locations include Heap, Heywood, Radcliffe and Whitfield
Cliviger
- descendants of John & Mary Crossley from Stansfield (m 1683 or 1686), whose children moved to Cliviger; other locations include Liverpool, Worsthorn, Mellor, Newchurch and Newfoundland, Canada
Cornwall and Devon
- descendants of William Crosley (born ca 1680) and Ann Williams; locations include Plymouth, Devonport, Saltash, St Germans, St Stephens and London
Derbyshire
- descendants of Robert Crossley, died Keddleston 1613; locations include Mickleover, Etwall, Walton upon Trent, Polesworth, Lullington, Coton and Staffordshire
Eccles
- descendants of Lawrence Crossley (1721-1792) and Frances Aldred, he from the Padiham family. Locations include Worsley, Manchester, Swinton and Hulme
Halifax
- descendants of John Crossley, ?died 1739, a clothier of Northowram; locations include Southowram, Halifax and Ovenden
Hipperholme
- descendants of Nathan Crossley (born ca 1600) and Bridget Horsfall; other locations include Lightcliffe, Halifax, Coley, Brighouse, Southowram, South Kirkby and South Elmsall
Kent
- descendants of John Crossley died 1732, and Ann James; locations include Brenchley, East Peckham, Eynsford, London, Deptford, Romford, Islington and Victoria (Australia)
Oldham
- descendants of James Crossley of Crompton, born around 1595; locations include Cowhill, Middleton, Failsworth, Alt, Ashton, Shaw, Hartshead, Coldhurst
Padiham
- descendants of John Crossley als Thomsone, born Scaitcliffe, died 1606, and Elizabeth Sykes; locations include Blackburn, Habergham Eaves and Burnley
Scaitcliffe
- the oldest Crossley family
Scammonden
- descendants of Samuel Crossley died 1740, and Elisabeth Hurst; locations include Slaithwaite, Huddersfield, Barkisland, Elland, Deanhead and Soyland
Sowerby Bridge
- descendants of John Crossley born around 1680 of Skircoat, who is probably descended from the Soyland family; locations include Elland, Halifax, Ovenden, Burnley, Warley, Scotland (Paisley), Sowerby and Massachusetts. The Crossley baronets, the carpet-manufacturing family, are from this branch
Stockport
- family of James Crossley and Margaret Tyrer, married 1716
Sunderland
- family of Matthew Crossley and Elizabeth Dykes, married 1835; possibly descended from James Crosby born ca 1680; locations include Sunderland and Durham
Thomas Crossley and Ellen Driver
- a couple who married in Todmorden 1785; descendants in Shawforth, Spotland, Skipton, New Jersey, etc
Wadsworth
- descendants of Samuel Crossley, died Wadsworth 1719; locations include Wadsworth, Heptonstall, Hebden Bridge, Walsden and New Jersey
Westmorland
- descendants of Michael Crossley, died Kendal 1774 (family originally from Colne); locations include Cartmel, Kendal, Staveley, Silverdale, Lancaster, Ulverston, Hawkshead and Marylebone. Also of John Crossley (1713-1793) and Margaret, initially of Rochdale, later Heversham
---
Listed below are all the people in the main tree, from Todmorden and Walsden
A person marked with an asterisk (*) appears only as a child in the parents' family